Written By: Christine Bunish, Post Magazine
Posting episodic television is a complex process. From on-set color and data management to the creative cut and final color correction, workflows must run smoothly and seamlessly. Editors, colorists and DPs share with Post their unique perspectives on how TV series get from the camera to the viewing platform of choice for today's audiences.
LONGMIRE
Editor Adam Bluming, who cuts the A&E western mystery series, Longmire, has an enviable gig.  "I've worked on shows where the story had to be made in editorial. I've had to manufacture what wasn't shot or performances that weren't there," Bluming recalls. "But with Longmire, the scripts are so well written and acted that they translate beautifully to editorial.
"But all shows tend to run long at first. If I could let the long version of scenes air, they would certainly be good, but it's when you have to start removing things for time that you get into the really fun moments: creating a bridge here or there story-wise and creating more visually dynamic filmmaking than initially intended — and with a style that could only be thought up while in editorial."
With dialogue-based scenes, Bluming can take cues from the writing. "The blueprint is there for you," he says. "But that's not always the case with action scenes — especially when the story is supposed to span 30 minutes, for example. So every time I encounter those situations I have to figure out what music I should use prior to cutting."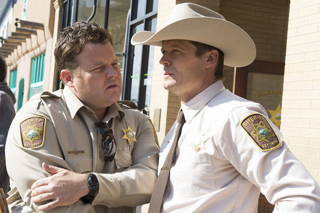 Take the last scene in the season finale, where Detective Fales confronts Sheriff Walt Longmire about the continuing mystery surrounding the death of Longmire's wife. After Fales leaves, Longmire flies into a rage and destroys his office, his best friend is taken into custody by Fales and Longmire's deputy is shot by an unseen gunman. "It was 30 minutes of movement and very little dialogue," Bluming says. "There was no way to cut that in realtime without it becoming boring very quickly — nothing would be driving the cutting pattern.
"I need the rhythm of the music to tell me where I need to cut; there's sort of a subtext in the right piece of music that says, 'This is what happens and this is how long it should last.' Although a fantastic composer, Dave Shephard, scores the show (and music editor Michael Alexander creates the temp scores), a lot of times the choice of needledrop music comes down to something I simply need to find.
"The finale needed something that felt like Walt's world was crashing down, that everything in Seasons 1 and 2 came to a head.  So I looked for music with no actual lyric but where the artist's screaming or chanting — like in the Marilyn Manson track I found — would take on new meaning when juxtaposed with the right imagery. It's as if the music became an additional actor."
Once Bluming cut the scene to the music and mixed in sound design it became "my new blueprint for how the scene would work," he reports. "And when I showed it [to the executive producers] the bell rang with thunder." But the tricky bit always comes when a temp track that really sells the scene has to be swapped out for music that's readily available. "At best you get a Muzak version of what you really liked," Bluming says. Fortunately, the Marilyn Manson temp track could be licensed for the scene.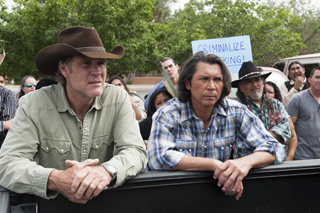 Although Longmire shoots in New Mexico, Bluming and fellow editors Vikash Patel and Russell Denove work in offices at Raleigh Studios in LA. "We're exactly one day behind the shooting schedule," he notes. "In a perfect world, at the end of our day we're up to camera and have scenes borderline broadcast-ready. We have four days to absolutely perfect the show after they're done shooting."
About two weeks before the start of Season 2, the editors switched from cutting on Apple's Final Cut Pro to Avid Media Composer. Bluming learned to edit on FCP and had never cut on Avid. But he says that Apple's seeming lack of support for the professional editorial community with the release of Final Cut Pro X prompted the change.
Bluming's assistant, Matthew Gilna, was "key" to him picking up the Avid quickly. "He was my talking bible. Now, Final Cut feels like I was on training wheels. I've even installed Media Composer on my home system."
Longmire is shot on Red Scarlet. An on-set dailies system from MTI takes the camera masters and transcodes them to a ProRes proxies and uploads them to MTI in LA with the sound files, where they are synched and color timed.  "In the morning we get the dailies synched in Avid bins with temp color," says Gilna, and each editor and his assistant receive duplicate media.  The process is really fast."
Bluming and his colleagues cut on Apple iMacs connected to Panasonic plasma displays through Blackmagic Design Intensity Extreme, which interfaces to the iMacs via Thunderbolt. Media lives on Promise Pegasus Thunderbolt RAIDs. Instead of Avid Unity, the editors use a gigabit Internet network for file sharing.
Bluming says the "burden of cutting a show as good as Longmire" is the pressure to maintain the quality of all the work that's done before he gets to the edit room. "I'll get a beautifully-written scene shot in a spectacular setting with fantastic performances. If you blow it at that point, you're clearly the weak link."
MODERN FAMILY
Five seasons into ABC's popular Modern Family, editor Ryan Case explains how the show has evolved.
"The storytelling has become more complex. In the beginning it was very basic introducing the characters. Now, we're juggling more and more storylines at a time and there are more complex dynamics. In some episodes, the whole family is together throughout."
Case, who won a 2010 Emmy Award for cutting the show's pilot and has received nominations every year since then, has concentrated on comedy throughout her career. She edited a Funny or Die Web series with James Franco, and cut pilots for This Might Hurt, Don't Trust the B in Apartment 23 and Brooklyn Nine-Nine.
"To cut comedy you have to have a strong sense of humor and a strong knowledge of comedy," she says. "There are many ways to cut a joke. I'm always thinking about what makes something funny. I'm a big comedy nerd!"
Modern Family switched to single-camera Arri Alexa last season, but the changeover didn't make "a huge difference" to editorial, she says. "They shoot cross-coverage, so we're not bombarded with footage. It's very efficient and great for continuity since we get the actual reactions of the other actor. I can find the natural rhythm very easily."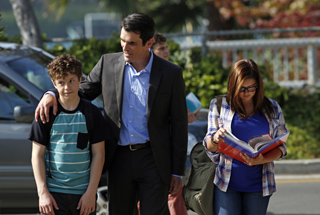 Case and one other editor work next to the stage where the series is shot at Fox Studios; she cuts every other episode for a total of 12 per season. She likes the proximity to the set, which enhances her involvement in the show. "If we need to fix a story point and do a pick up or shoot a new talking-head interview, I can be present, which is very valuable," she points out.
She says the writers keep the show fresh and give her "lots of different challenges" every season. "Last year, Danny Zuker wrote a Valentine's Day episode, where every family had their own act; they'd never done that before," she says. "And the entire family showed up in a roller rink for a whole episode with six or seven storylines."
Her favorite episode last year featured the birth of Jay and Gloria's baby. "They wrote a really funny episode with a lot of heart," she recalls. "When I got to the end we wanted to make sure it had the impact it needed, so they wrote a new voiceover for Jay and I got my assistant to record it as a temp. I cut it in and went back to previous seasons to find benchmark moments and cut them with music. It made for a very rich ending. The writers just tweaked the dialogue then Ed (O'Neill) recorded it. I was really proud to be part of shaping a special episode."
Case learned on Avid and uses Media Composer 6.5 on Unity for Modern Family. "The new upgrade works very quickly and smoothly, and has fast render times," she says. Case favors Avid's ScriptSync and the asymmetrical trim tool, the latter being especially useful for manipulating the timing of jokes. "I can audition every possible timing very quickly. A matter of a few frames can make a huge difference."
Her involvement with the show continues as episodes move to Smart Post Sound. "I spot sound the day I lock and attend every sound mix," she notes. "A lot of people probably don't go to the mix because they don't have time. But sound is very important to comedy; I'm in tune to what the producers want so it's really valuable for me to attend. Just turning up the volume of a line a bit can make it funnier."
Modern Videofilm handles the show's final color and finishing.
BANSHEE
The Cinemax original series, Banshee, the name of a not-so-quiet Amish town where an ex-con has assumed the identity of a murdered sheriff and continues his criminal ways, has its on-set color and data management and in-editorial services performed by Hollywood-based Light Iron.
"The show is shot on location in North Carolina, and the camera team needed an on-set system with a small footprint that's able to go down a lot of back roads and into demanding environments and still perform well," says Light Iron senior producer Paul Geffre.
Enter Light Iron's Lily Pad, a compact on-set solution for downloading media and creating and setting color looks. "It allows DP Christopher Faloona to look critically at a shot and use Colorfront Express Dailies to set color looks with DIT Jimmy Cobb, who operates Lily Pad," Geffre explains. "It gives the cinematographer more creative control. Faloona captures Banshee to Arri Alexa ProRes.
Lily Pad works in conjunction with Outpost, Light Iron's in-editorial services system back in LA. Lily Pad copies camera source media and sound files to encrypted shuttle drives, which are sent daily to LA. Outpost operator Drew Kilcoin copies and archives the source files and applies the color created on set using Express Dailies. He syncs all sound using the metadata from the sound files to name clips with the same scene and take information, creates Avid offline media for editorial and makes Pix files for the executives' review.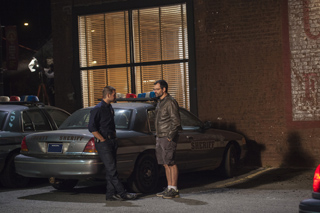 "Outpost is tied to their Avid Unity so the offline files were available immediately with no re-ingesting," Geffre points out.  "Co-producer Allen Marshall Palmer was impressed with the system's ability to save not only money but time. That's one of Outpost's most powerful features."  Technicolor handles the show's final color and finishing.
For Season 1, the production used only the Outpost system. After discussions with the camera team, the Lily Pad was deployed on-set in North Carolina for Season 2. "Adding Lily Pad ensures that what Chris and Jimmy created on-set was replicated exactly in the dailies process in LA," says Geffre. "Lily Pad and Outpost are meant to be an end-to-end system, to work together. By creating an EXD color profile on-set, the pressure to properly apply the color looks is off the dailies creator because it happens automatically. The entire production has a high level of confidence that what was created on set will be seen in the dailies and editorial."
Geffre says "the biggest compliment" he gets from clients like Banshee is "not hearing from them. We set them up in early April, and the systems worked as they were supposed to without needing a lot of handholding. Lily Pad and Output were run by two people on opposite sides of the country: Jimmy in North Carolina and Drew in LA. Their consistent operation meant one less thing for the production team to concern itself with." Season 2 of Banshee is set to air in 2014.
BLACKLIST
NBC's new Blacklist, starring James Spader as a notorious fugitive who surrenders to the FBI with a list of criminals and terrorists only he can help them find, is following a 4K post workflow at Sony Pictures Entertainment's new Colorworks 4K Television facility in Culver City, CA.
Colorist Randy Starnes says he's handling the series as he would an HD- or film-originated series, but there are important differences.  "It's standard operating procedure for me, but these are big files, so it takes a lot of horsepower to move them," he says. "4K gives me more resolution and 16-bit color depth, which is much closer to original color negative. So we're back to where most of us love to be."
Blacklist is a multi-camera Sony F55 show. DP Yasu Tanida shot the pilot with Frank Prinzi coming on board at the start of Season 1.  Arthur Albert is the current DP. The show shoots primarily in New York. "I have the luxury of working with raw data," Starnes says.  "But Arthur communicates directly with colorist Aurora (Rory) Gordon at Sony's 24p Dailies Lab for an approximation of what he wants scenes to look like."
Starnes meets with Gordon at the start of principle photography and conferred with the DPs after the first day of dailies for the pilot and, later, the series. Gordon "flags" Starnes if she spots any concerns and comes to see the final color correction, he reports.
"I'm not color timing through a LUT, but use reference [footage] in sync with the final picture to give me a sense of what people have seen. If they don't say that's counter to what they want, I just go for a pleasing look and try to bring out depth."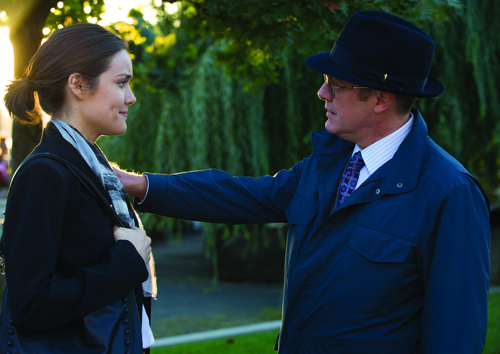 DP Tanida graded the pilot with Starnes aiming for a "very clean look. For the most part, I let the image and lighting dictate the look I put on it," says Starnes. "We have a lot of different settings: the prison, FBI control rooms, vans, practical locations and visual effects shots."
All of the data is stored on what Starnes calls "the TV production backbone," a SAN, which currently has more than one-half petabyte of storage . "It comes to online editor Chris Meagher at Colorworks who conforms in 4K on a Baselight 2. I'm working on a Baselight 8 system, so I pick up the files off the SAN; Chris can drop in any VFX that I'm waiting for in the background while I'm working." A typical episode takes two days for final color.
While Starnes notes that Colorworks 4K Television's technical facility is state of the art, "if the whole team doesn't really care about every project, then the technical plant doesn't mean a thing. Everyone has been hand picked to be here. This is our craft. I don't even think about the technical tools after a while. The infrastructure is designed so I can take care of my clients."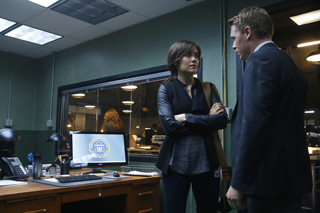 After all, he regards his role as "the interpreter, the person who enhances the look that the DP has created using the full 4K data. This is the final polish on a collaborative process."
At Colorworks 4K Television, Rebecca Moon is the project manager for TV.
THE GOOD WIFE, MAD MEN
For the last three seasons the CBS hit The Good Wife has used the Autodesk Smoke-Lustre combination for editorial and color correction, reports Tim Vincent, senior color timer at Technicolor Hollywood. "The systems give us a lot of extra flexibility," he says. "I come in in the morning without an assistant and bring in the latest cut with the mattes attached and lined up. I do a quick color trace from the old version to the new one, then pick it up and run."
Long-time series DP Fred Murphy alternates episodes with Tim Guinness; Murphy drops by at the start of each season to establish the look of the show, which is shot in New York. "We do modify the look each season," Vincent says. "Between Seasons 3 and 4 they went from the Sony F35 camera to Arri Alexa, so that was a big change. But the look evolves with the story. Now, it's a little bit cooler, less saturated, darker and more contrasty. I like to say the show has a stylized glamorous look."
Vincent works with raw files conformed. "I request previews of all the shows I'm doing; I watch either the producer's or studio cut to see the intentions shown in the dailies color correction and to understand the story for the mood to apply to the scenes. It makes for better communications."
Having collaborated with Murphy for the show's five seasons means that Vincent has "a really good feel for what Fred is looking for and what he's not able to do on-set, like flagging certain walls. I can take care of things like that for him."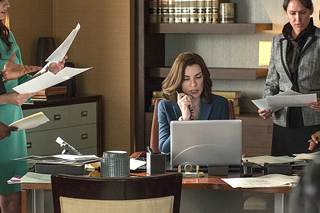 AMC's top-rated Mad Men has a "more cinematic look," Vincent notes. "It feels realistic and beautiful, rich and contrasty, with nice skin tones and more saturated bright colors for the offices. There are different looks for mood, but I always maintain a good balance on color for the production design, costumes and make up" that evoke the era as the show marches forward in time. "If I was heavy-handed it would take you out of the period."
Vincent has been working on Mad Men since the beginning of Season 2. The final Season 7 will be aired over a two-year span. Vincent had been nominated by the HPA for color grading the series three years in a row. He won the award in 2011.
"They started on film and switched to Alexa for Season 5," he reports. "DP Chris Manley has been shooting Mad Man the whole time I've been working on it. I have a good handle what he and creator Matt Weiner want for the show. I see Matt every episode and Chris occasionally for a review session, and we make subtle tweaks, mostly based on story points or a particular emotion. The color cannot distract from the story."
When the show moved ahead to 1968 last season, took on "a big hair, make up and style change," he says. "The show went to paler lipstick and more colorful eye shadows," says Vincent. "We initially felt things weren't saturated enough, but with the paler lipstick you have to watch the skin, cheeks and eye color more."
Mad Men also has different looks for New York and LA. "New York is very attuned to the seasons and weather. I've taken the same greenscreen plates and timed them for four seasons looking outside the windows during car or train scenes or outside the homes — the buildings change with the cooler weather or rain, their color tone, brightness and contrast." LA, on the other hand, "is always bright, sunny and warm."
During the run of both The Good Wife and Mad Men the way audiences watch TV has changed dramatically. And that has impacted what Vincent does in his color-timing bay. "We used to base everything on the CRT monitor everybody had at home. Then we went to flatscreens and now tablets, iPods and iPhones. Every time a new platform comes out I purchase it so I can watch a reference episode on all the platforms and get a general idea what each delivers."
THE ORIGINALS
Fans of The Vampire Diaries are sure to relish The CW's new spin off, The Originals, which is set in New Orleans and premieres this month. DP Paul Sommers is shooting the series in Log C on Arri Alexa; the production is based in Atlanta, where he's taking advantage of Bling's on-set data management solution. Bling is a division of SIM Digital, which conveniently has an office in Atlanta.
"It's pretty simple," he says. "We ingest into Bling's Resolve station, where we're able to build viewing LUTs, which we use for dailies. Then we take the viewing LUTs from the Resolve station and put them into a Pluto processing box on-set so the director can see what the dailies look like. After that the LUTs travel through the Bling pipeline to LA for editorial and to DAX, the online dailies provider."
This process has allowed Sommers to eliminate the position of DIT.  "For years I've been a big fan of DITs, but Alexa is so forgiving, it has so much dynamic range that there's no need to do realtime color correction shot to shot," he explains.
Having no DIT on-set saves the production time and money, and promotes a closer relationship with the directors, he reports. "The directors say it's nice to have a DP by their side again because I'm not running into the DIT tent to do realtime color correction for every shot."
Sommers has done three series and four pilots using the Bling pipeline; just prior to The Originals, he shot the Sundance Channel original series, Rectify, which was also produced in Georgia.
"As a film guy who transitioned to video, a DIT was always necessary," he says. "Now, the Alexa and other digital cameras put me back into a film-style workflow. Bling's is the best system I've found."
The Bling station, equipped with Blackmagic Design's Da Vinci Resolve system, resides "in the camera truck on location or on the stage 50 feet from the set," says Sommers. "My digital utility runs the system; it's really simple — a person can pick it up in 20 minutes."
Final color is done by senior colorist Scott Klein at Technicolor Hollywood.  "He did all The Vampire Diaries for me and five or six other shows, so we already have a shorthand with each other," says Sommers, who works off a ProRes 444 file on a hard drive for final color.
"Bling goes out of their way to make sure everything works. Because there's someone right here in SIM's Atlanta facility, there's a safety net for me if the LUT I called for doesn't seem to match up with the footage for some reason. They'll adjust things to make them work."